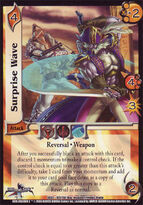 Name: Surprise Wave
Set: SC03 (Soul Arena)
Card #: 31/144
Rarity: UC
Type: Attack
Difficulty: 4
Control: 2
Block: +2 Mid
Speed/Zone: 4/High
Damage: 3
Keywords: Reversal, Weapon

After you successfully block an attack with this card, discard 1 momentum to make a control check. If the control check is equal to or greater than this attack's difficulty, take 1 card from your momentum and add it to your card pool face down as a copy of this attack. Play this copy as a Reversal as normal.
Ad blocker interference detected!
Wikia is a free-to-use site that makes money from advertising. We have a modified experience for viewers using ad blockers

Wikia is not accessible if you've made further modifications. Remove the custom ad blocker rule(s) and the page will load as expected.