(BRIEF CHARACTER BIO AND OVERVIEW).
Domination
Edit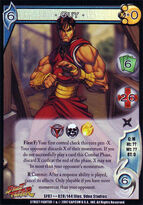 (COMMENTARY OF CHARACTER CARD)
*Guy*
Cost: 6
Control: 6
Block: +0 Mid
Hand Size: 6
Vitality: 26
Gender: Male
Height: ??
Weight: ??
Blood Type: O
Resource Symbols: Chaos, Death, Fire

Form First F: Your first control check this turn gets -X. Your opponent discards X of their momentum. If you do not successfully play a card this Combat Phase, discard X cards at the end of the phase. X may not be more than your opponent's momentum.
React R Commit: After a response ability is played, cancel its effects. Only playable if you have more momentum than your opponent.
---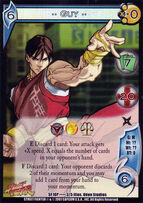 A promo Guy that was also released along with the set Domination.
**Guy**
Cost: 6
Control: 6
Block: +0 Mid
Hand Size: 6
Vitality: 26
Gender: Male
Height: ??
Weight: ??
Blood Type: O
---
Here is a list of Guy cards from the SF07 Domination set: